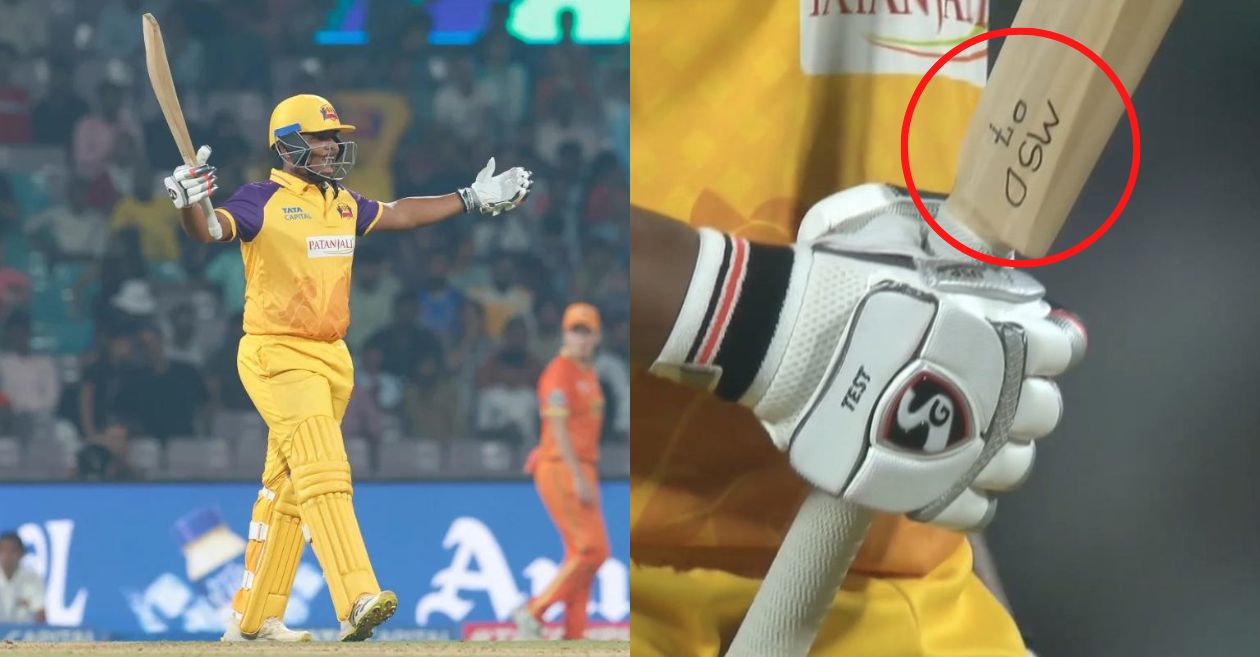 UP Warriorz (UPW) registered a thrilling win over Gujarat Giants (GG) in match no. 3 of the Women's Premier League (WPL) 2023 at DY Patil Sports Academy in Navi Mumbai on Sunday (March 5). Warriorz defeated the Giants by three wickets and a ball to spare.
Grace Harris and Kiran Navgire shined for UPW in their victory, smashing a half-century each for their team. While Harris added a quick fire 59 off 26 balls, Kiran scored a brilliant 53 off 43 deliveries comprising five fours and two sixes. Apart from the superb inning of the duo, what caught the attention of viewers was the bat that Kiran used in the match.
The sponsorless willow used by Kiran had handwritten 'MSD 07' on it, which made fans go gaga over the fact that the India star adores their favourite legendary, MS Dhoni. However, many felt heartbroken to see Kiran have no bat sponsor and demanded on social media to get a logo of some company on her bat.
The Maharashtra cricketer's teammates from the UPW also demanded to sponsor the former's bat and posted #getkiranabatsponsor on their social media handles.
Sophie Ecclestone took to Twitter to appreciate both Harris and Kiran for their sensational knocks and wrote: "Grace. Harris. Loved getting out there for the first time with the @UPWarriorz #uttardega #getkiranabatsponsor"
Grace. Harris. 🤯🤯

Loved getting out there for the first time with the @UPWarriorz 💜💛#uttardega #getkiranabatsponsor pic.twitter.com/VFaWrsTyag

— Sophie Ecclestone (@Sophecc19) March 6, 2023
Meanwhile, Harris also shared a story on Instagram to celebrate the team's victory and wrote: "It was all good fun! #UPwarriors #uttadegaithink #getkiranabatsponsor"
On that note, let's have a look at how fans reacted to the same on Twitter:
Kiran Navgire's bat does not have a sponsor's logo. She has written MSD07 by hand on her bat.

Dhoni has so many fans, so many sponsors. Can we have a logo for the first Indian with a T20 150?

Wishful thinking, I suppose.

— Abhishek Mukherjee (@ovshake42) March 5, 2023
'Kuch kuch hota hai Mahi, tum nahi samjhoge!'

Kiran Navgire of the @UPWarriorz dreamt of hitting winning sixes after witnessing #Dhoni's famous shot in WC 2011. She's since become a run machine herself.. and gets inspired each time she takes guard! 😇 #CheerTheW #TATAWPL pic.twitter.com/46ZvxdytlM

— JioCinema (@JioCinema) March 6, 2023
You have done something Great When ur parents are cheering & happy in home!!! #KiranNavgire | #WPL pic.twitter.com/3SPD5JQiFA

— ash (@ashMSDIAN7) March 5, 2023
Australia big-hitter Grace Harris is a team player with a big heart 💪#ICYMI/#PSA: Get India big-hitter Kiran Navgire a bat sponsor

The beauty of the #WPL exhibit 992, the #UPWarriorz edition#WPL2023 | #UPWvsGG pic.twitter.com/MRihmOlOlx

— Annesha Ghosh (@ghosh_annesha) March 6, 2023
Kiran Navgire wrote MS Dhoni's name on the bat before smashing a fifty in the Women's Premier League.

MS Dhoni is an inspiration..❤️✨#WPL2023 pic.twitter.com/KTc3NNdGsA

— Swara🍃 (@SwaraMSDian) March 6, 2023
"I follow Dhoni sir and I love finishing like him" – Kiran Navgire 😍@MSDhoni #WPL2023 #WhistlePodu pic.twitter.com/HNTPaKtt8D

— DHONI Era™ 🤩 (@TheDhoniEra) March 6, 2023
Kiran Navgire's Bat 7️⃣❤️

She scored her Maiden WPL Fifty 💥@MSDhoni #WPL #WhistlePodu pic.twitter.com/xzEr1EsbKT

— DHONIsm™ ❤️ (@DHONIism) March 5, 2023
.@msdhoni fangirl kiran navgire ❤ pic.twitter.com/ekIURDXTHo

— Dhoni Army KA™ (@DhoniArmyKA) March 5, 2023
Kiran Navgire smashed FIFTY in her first match of #WPL with a bat "MSD 07" written on it..As there was no sponsor.

MSD is inspiration for many to take the bat and play cricket 💯#MSDhoni𓃵 pic.twitter.com/GSWmvwtID1

— Varun Giri (@Varungiri0) March 6, 2023
Kiran Navgire wrote MS Dhoni's name on her bat before smashing a Half-Century in #WPL ❤️💥@MSDhoni #MSDhoni #WhistlePodu pic.twitter.com/PtW3aadD4l

— Karnataka Dhoni Fans Association™ 🏆 (@DhoniKarnataka) March 6, 2023
Source: WomenCricket.com