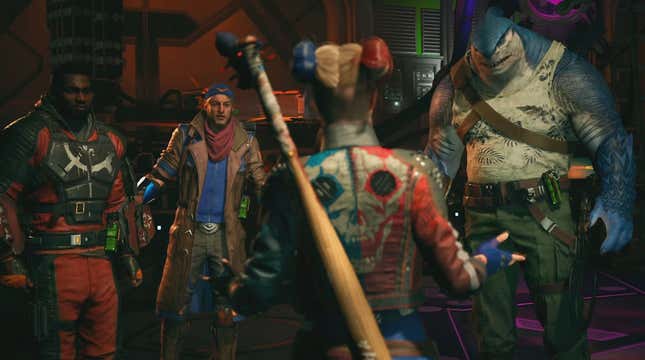 Rocksteady Studios emphasized that Suicide Squad: Kill the Justice League will be a story-driven action adventure in its latest deep-dive reveal, but its post-launch plans seem to still fall very squarely into the live-service mold. The studio provided more detail on the game's seasonal updates and battle passes today, including that players won't need to spend money to acquire new characters.
The Top 10 Most-Played Games On Steam Deck: August 2023 Edition
Despite existing in the Batman: Arkham Knight universe, Suicide Squad comes with all of the modern multiplayer features, boondogles, and annoyances. A press release accompanying today's announcement is practically a checklist of every way major publishers are trying to recoup the costs of big budget blockbusters without continually raising the price of their games.
For example, while Suicide Squad technically comes out on February 2, players who buy the $100 Deluxe Edition will get to access to it three days early. That more expensive version will also come with one token for a "premium battle pass" as well as some additional items and outfits. Rocksteady also makes clear, however, that players who buy the regular version of the game will still get access to post-launch content "at no additional cost."
"Post-launch seasonal updates and earnable characters to expand the story with new missions, items, and more, available at no additional cost," the studio writes. That includes, "access to all free seasonal battle pass tiers (as each becomes available)." It sounds like the always-online game won't be locking players out of new story content and missions, just potentially charging for certain special seasonal rewards. Of course, the proof will always be in the final game. Additional characters might be "free" but still require an unreasonable amount of in-game grinding to unlock.
Hopefully, Suicide Squad can get the balance right where other games like Marvel's Avengers haven't. The last time Rocksteady revealed new gameplay footage back in February, fans were largely repulsed by gear scores and other signifiers of live-service padding and monetization. The game subsequently went dark and got delayed for almost a year to work on adding more polish. It would be a nice surprise if all of that stuff ended up feeling mostly separate and easy to ignore in the finished game. We'll find out soon enough.