Pegula overcomes Keys 6-4, 7-5 to reach San Diego semifinal
In San Diego, California, two Americans battled for a spot in the semis. Jessica Pegula from Buffalo, NY, is ranked #6 and is the 4th seed. This is her first tournament since reaching the quarters last month at the US Open (l. to #1 Swiatek). The 28-year-old has had a standout season reaching the quarters at three of the four grand slams (Aussie, French & US Open).
Madison Keys from Rock Island, Illinois is one year younger and currently ranked #18 having reached a career-high of #7 in 2016. She too has had a stellar year winning in Adelaide at the start of the season, reaching the semis at the Australian Open (l. #1 Barty) and at the Cincinnati Masters, defeating world #1 Iga Swiatek and the Wimbledon champion Elena Rybakina en route to the semis (l to Kvitova). 
Keys won the toss and elected to serve. She led 40-15 but soon faced break points following three consecutive unforced errors and dumped serve when she overcooked a backhand. Pegula made 4/6 first serves and held to 30 to consolidate the break for 2-0.
Keys a finalist at the 2017 US Open, regrouped admirably as she held at love to get on the board. Pegula struggling with her opponent's pace of shot, found herself down break point. She reached deuce when Keys netted the return and despite a double fault and additional deuce and break points, managed to hold for 3-1.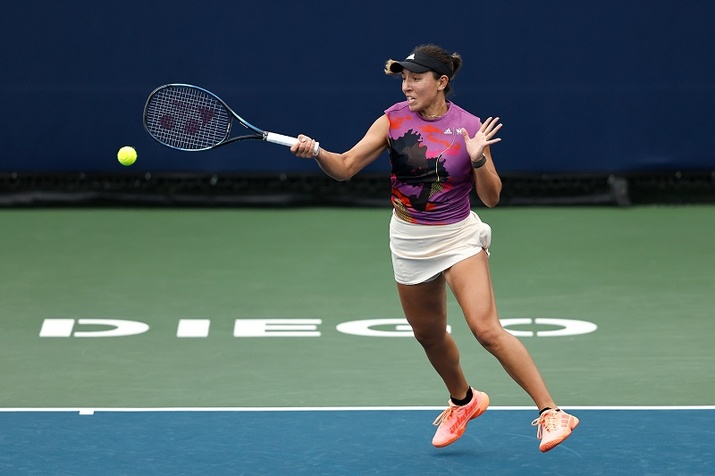 Keys continued to pummel the first serve making 6/8 and held for 2-3 when she crushed a backhand crosscourt while Pegula held easily to 15 for 4-2. 
Although Keys faced three deuce and three break points, she held for 3-4 with three outstanding forehand winners and an overhead smash. A grand slam doubles finalist, Pegula repeatedly applied pressure with her frequent and effective forays to net. She made 4/4 first serves including an ace up the tee and held at love for 5-3.
Keys struck her fist ace and with another forehand and overhead winner, held to 15 for 4-5. Pegula remained steady on serve and with a fantastic forehand down the line, clinched the opening set 6-4 in forty-four minutes.
Keys served first in the second and opened with a brilliant backhand down the line. Although she missed 2/4 first serves, she held at love for 1-0. Pegula donated another double fault but held to 15 to level. Keys struck three consecutive winners to go ahead 2-1 while Pegula hit two to level.
Keys hit her second ace and held easily to 15 for 3-2 while Pegula, striving to keep the points short, faced break point and dumped serve for the first time when Keys ripped the forehand return inside-out. 
Keys, however, failed to consolidate, giving back the break with her first double fault. Pegula made 4/6 first serves and held to 30 for 4-4. Keys faced double break point but managed the pressure hitting two winners, the last an overhead smash to hold for 5-4. 
Pegula serving to stay in the set, made 4/6 first serves, and held to 30 for 5-5. Keys made 4/5 first serves but it was not enough as she dropped serve following two unforced errors off the ground. 
Pegula opened the 12th with a well-struck serve and a crosscourt forehand winner, but it was anything but easy for the world #6 to secure victory. She missed 6/14 first serves and faced four deuce points before converting her 4th match point when Keys netted the return. 
Efficient not enthralling. Jessica Pegula played well enough to subdue a tough competitor that hit three times as many winners. She finished with one ace, three double faults and won 77% of first and 47% of second serve points. She converted 3/9 break points, saved 4/5, and hit 10 winners to 9 unforced errors. 
She will need to play even more aggressively and win a higher percentage of second serve points if she hopes to reach the final. Next up is either world #1 Iga Swiatek or fellow American and world #8, Coco Gauff.