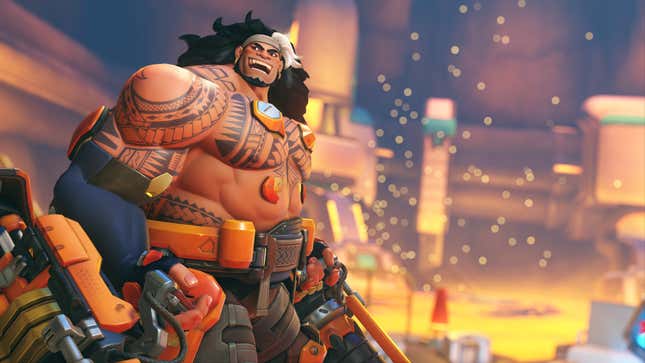 Overwatch 2 let players take Mauga, the hero shooter's new tank character, out for a test drive during BlizzCon earlier in November. I didn't really care for him then, and I found him somehow, despite his giant frame and powerful abilities, to be a bit of a pushover. That's not what you want in an Overwatch tank, and it sounds like Blizzard has heard that feedback enough that it's making changes to Mauga before he launches in season 8.
Overwatch 2's New Story Missions: Worth The Money?
In a post on the official Overwatch 2 website, director Aaron Keller delved into the feedback the team got during Mauga's test phase. A key takeaway was that Mauga felt weak. I can vouch for that. He is a giant dude but it felt like he just melted under even the slightest focus fire. It seemed like I could unload a clip and a half into his head with Soldier: 76 and he'd go down with minimal resistance. So, changes are on the way, and will land before the new hero's official launch. Keller shared a few specifics, and it definitely seems like Mauga's getting a survivability overhaul.
Two sweeping changes include reducing his head's hitbox, which means it will be harder to land headshots and do more damage per bullet, as well as making 150 of his 650 health into Armor. Armor has a 30 percent damage reduction compared to standard health, which means that for the first 150 damage you unload on Mauga, you'll be doing somewhat less damage per shot. This alone gives Mauga more time to retaliate before you take him out.
As far as his abilities go, Overrun, which is basically his version of Reinhardt's charge, will now reduce up to 50 percent damage while active instead of 30, and Cardiac Overdrive, which heals teammates as they do damage, will grant those in range more lifesteal for damage done.
The full rundown is as follows:
Replace a chunk of his health with armor. We're experimenting with 150 internally.
Reduce the size of his head's hit volume.
Increase the damage reduction on Overrun. Originally it was at 30%, we're testing it at 50%. Also, this can no longer be interrupted by Hack.
Increase the lifesteal on Cardiac Overdrive.
There are quite a few changes in flight for his weapons. We're testing different spreads and firing rates when using both guns simultaneously, as well as different damage, ammo, and falloff numbers. We'll have more details on those as they solidify.
Mauga will join Overwatch 2's roster on December 5. Blizzard also announced the next two heroes at BlizzCon, including Venture, the game's first nonbinary hero.