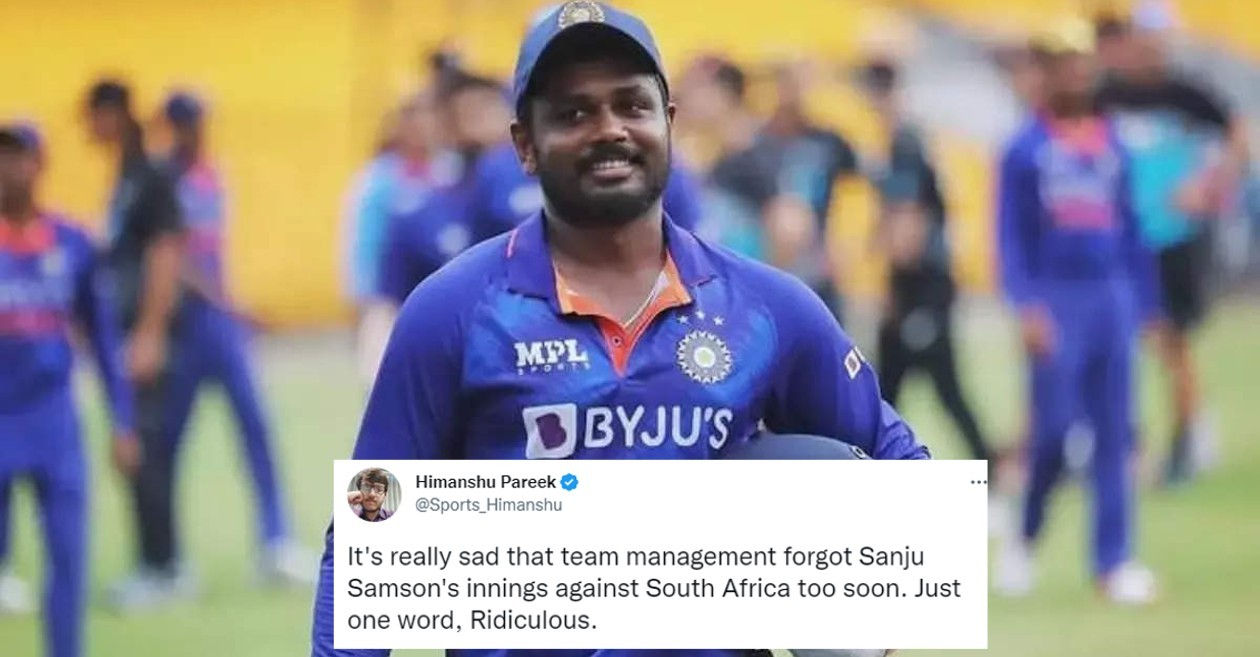 Wicket-keeper batter Sanju Samson has been once again forced to warm the bench as the Indian team management did not pick him in the final XI for the second T20I of the three-match series against New Zealand at Bay Oval in Mount Maunganui.
Notably, the series opener was washed out in Wellington, and when stand-in captain Hardik Pandya revealed the India XI for the second T20I at the toss, the name of Samson was missing from the list. The Men in Blue went with the likes of Shreyas Iyer and Deepak Hooda in the middle order.
"To get a game, a proper 20-over game is exciting. We still need to assess the conditions and see how the wicket is behaving. If the wicket doesn't help you, and you try playing shots and lose wickets, and it doesn't rain, you might be in a difficult position. We'll assess the situation, and if the rain comes, we'll reassess," said Hardik at the toss.
Samson's last appearance in the shortest format came during the tour of  West Indies in August 2022. He was not included in the 2022 Asia Cup as well as the T20 World Cup 2022 squads. He last wore the Indian jersey in the ODI series against South Africa a couple of months ago.
Samson was recently named for the New Zealand tour and his fans expected him to be back in the playing XI. But when the Twitterati saw Samson warming the bench, they didn't mince a word to criticize the Indian team management.
Here is how netizens reacted:
It's really sad that team management forgot Sanju Samson's innings against South Africa too soon. Just one word, Ridiculous. #INDvsNZ

— Himanshu Pareek (@Sports_Himanshu) November 20, 2022
That's how things work for Sanju Samson since 2014, the most unfairly treated player ever in Indian cricket history#SanjuSamson pic.twitter.com/SRCTR3PBsR

— Sanju Samson Fans Page (@SanjuSamsonFP) November 20, 2022
Justice for Sanju Samson 🥲 pic.twitter.com/wQBsihezNP

— AVI.29 🇮🇳 (@CricketLover015) November 20, 2022
No Sanju Samson No Umran Malik

Clearly India didn't learn anything from world cup debacle. This management crossed all the llimits of discrimination against Sanju Samson. This is it. I'm not gonna watch any India match until they pick Sanju #INDvsNZ

Sanju, they don't deserve U pic.twitter.com/lbP5l2uVZW

— BRUTU (@Brutu24) November 20, 2022
After Sreesanth took "THAT" catch to win India the 2007 T20 World Cup, they said "You'll find a Mallu in every part of the world". Same can be said of support for Sanju Samson! He's got so much love around the world! #BayOval #NZvIND pic.twitter.com/gfDQUEBFDa

— Arun Gopalakrishnan (@statanalyst) November 20, 2022
Sanju Samson Misses Out Here As Well 😡

— Vaibhav Bhola 🇮🇳 (@VibhuBhola) November 20, 2022
Once again #SanjuSamson faces the axe. But, fans cheering for him from the stand.

He is not doing anything wrong still not finding a place in the playing eleven. pic.twitter.com/0mmXGl9qfP

— Shubhankar Mishra (@shubhankrmishra) November 20, 2022
Leaders change, Selection committee change, Coaching staffs and management change, denying opportunities to Sanju Samson is the only constant thing in Indian cricket!

— Lazy Guy (@kuzhi__madiyan) November 20, 2022
Sanju Samson, I salute 🫡 you brother. You have unbelievable grit and will power. Wish you lots of luck 🙏#SanjuSamson

— Suraj Pandey (@ferrarinotfiat) November 20, 2022
Seriously it's hard to imagine in the shoes of #Sanjusamson ….You are not doing anything wrong still you are not finding a place in the playing eleven…..You please leave the Indian team pic.twitter.com/nSJ2Oetkbt

— Snlkmr791 (@snlkmr791) November 20, 2022
It's not Sanju Samson lost its India's lost
He is Gem but Bcci can't afford this gem #SanjuSamson
#NZvIND pic.twitter.com/q8nU4mwsTU

— AVI.29 🇮🇳 (@CricketLover015) November 20, 2022
Once again #SanjuSamson faces the axe. But, fans cheering for him from the stand.

He is not doing anything wrong still not finding a place in the playing eleven.@IamSanjuSamson @BCCI pic.twitter.com/F8hUcpfNNj

— KAILASH GODARA0001 (@kailashbarmer01) November 20, 2022
They can't make it without @IamSanjuSamson . He deserve a place in Indian team. #sanjusamson #JusticforSamson pic.twitter.com/u0c2sPA17y

— Arvind Kumawat (@ArvKumar9) November 20, 2022
Now when do we realize @IamSanjuSamson >>>>>>>>>>>>>>>>>>>>>> @ishankishan51 @RishabhPant17 @HoodaOnFire ! Logic behind Hoodas selection, still a question🙋! What's the pt when u don't use him in bowling!? #bcci #INDvsNZ #SanjuSamson @BCCI

— Rajashekar Bheema (@rajuu_1417) November 20, 2022
Samson still not in India T20s scheme of things is pure politics.

— Slog Sweep-189 (@SloggSweep) November 20, 2022