The launch of Modern Warfare 3 is firmly behind us now, so Activision and Sledgehammer Games have shifted the focus to hyping up some of what to expect when the first season drops. We still don't have a firm date for it, but we do have new information about some of the new content.
For Modern Warfare 3, that arrives in the form of three entirely new, original multiplayer maps – all of which are for core multiplayer 6v6.

To see this content please enable targeting cookies.


You may already be well aware that a big reason why Modern Warfare 3 felt old on day one is that its entire roster of launch maps are remakes from the original 2009 Modern Warfare 2. Remakes are common in the series, but no other Call of Duty has ever launched with zero original maps.
Developer Sledgehammer Games has always been keen to remind everyone that original maps are in the works, and the first few will arrive with the first season. In a new blog post, the developer offered our first look.
When the new season kicks off, you'll find two original 6v6 maps, with the third arriving mid-way through it with the mid-season update. Meat is described as a "compact" map, with the East Bay Meats slaughterhouse at the centre.
Greece is a lighter, and more medium-sized map set in a coast town on the Mediterranean – presumably in the country of Greece. Rio is the third and final one, arriving with Season 1 Reloaded. This is another one with bright colours, offering close-quarters combat in a shopping centre.
On the subject of maps, the return of Gunfight mode brings with it its own 2v2 maps. Expect some favourites to return, alongside the new Training Facility map, arriving at the launch of the season.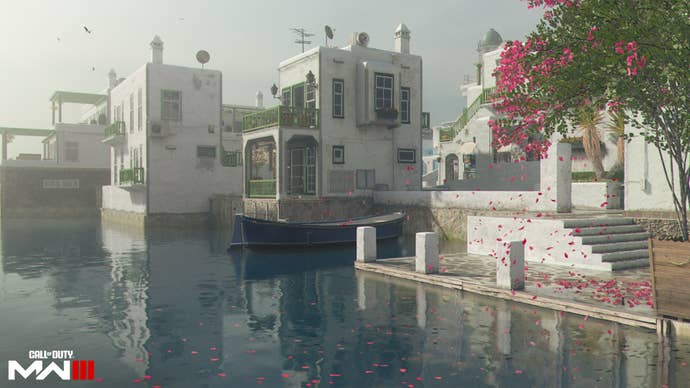 Season 1, of course, also marks the return/refresh of Warzone, with its new Urzikstan map. You can think of the new Warzone as an evolution (or devolution, depending on your perspective) of everything that came before.
This is going to be a much more streamlined experience akin to the early days of the battle royale mode, albeit with the much faster movement of Modern Warfare 3, and the return of several of the mechanics that have been making their way to Warzone over the last several years.
Outside of that, you can expect a big update to Zombies, which introduces Dark Aether Rifts. Those sound like the ones you could encounter in Black Ops Cold War's Outbreak, though they are positioned here as "end-game" content available after completing seasonal missions.
Zombies also gets a new Wonder Weapon, and several acquisition schematics to add to the existing ones. Season 1 arrives sometime in early December.