Medvedev snatches second title of season 4-6, 6-3, 6-2 at the Vienna Open
With just a few weeks remaining in the season, Daniil Medvedev should feel relieved. While it began with another grand slam final down under, many speculated the five set loss to Rafa Nadal took its toll.
A month after that gut wrenching loss, the twenty-six year old from Moscow attained the number one ranking for the first time. The celebration of that remarkable achievement, however, was short-lived and muted as Russian forces invaded Ukraine.
After the Miami Open he underwent surgery to repair a hernia, but the 2021 US Open champion never regained his footing and lost the #1 ranking as Russian and Belarussian players were banned from competing in England, including Wimbledon. During this time, he lost back-to back finals on grass and failed to defend his title at the Mallorca Open.
While he managed to win his first title of the season in Los Cabos on hardcourts, he fell to an inspired Nick Kyrgios in the 4th round of the US Open. It seemed to many that he was emotionally and mentally depleted. This unfortunate downward spiral, however, was buoyed by the highest of highs – the birth of his first child earlier this month.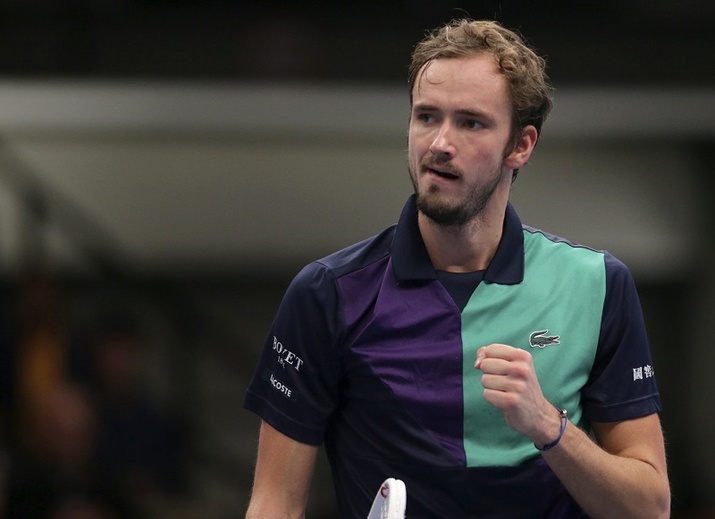 There were glimpses of last season's assassin in the semis at the Astana Open where he took the first set off Novak Djokovic before an adductor injury forced him to retire after conceding the second set tiebreaker 6-8. He has regained that momentum and more, reaching the final in Vienna without dropping serve or losing a set.
Denis Shapovalov the crafty young lefty from Canada, was also looking for redemption having not won a title since his first in Stockholm in 2019. Earlier this month at the Korea Open, he lost the title match in two tight sets to fellow-lefty Yoshihito Nishioka. The twenty-three year old has had a fairly fruitful season posting 32 wins to 22 losses including wins over then world #3 Sascha Zverev and 22-time grand slam champion, Rafa Nadal.
The Russian led the head to head 3-2 with all matches contested on indoor or outdoor hard. Shapovalov claimed the first two and lost the last three including this past summer 5-7, 5-7 in the fourth round at Cincinnati.
Medvedev the #1 seed and 4th ranked player on tour, served first and with a fantastic forehand down the line held to 30 for 1-0. Shapovalov found early success with the drop shot but faced a break point in his opening service game when Medvedev crushed a backhand crosscourt. The former world #10 faced two deuce points but with an ace out wide and a crisp backhand volley winner on the last two points, held for 1-1.
In front of an energetic crowd at this ATP 500 event, both were eager to get the upper hand in the rallies. Medvedev gifted two forehand errors and dropped serve when Shapovalov knifed a backhand volley. The young Canadian continued to play with poise and a sense of urgency as he consolidated the break for 3-1 with three consecutive first serves and forehand winners.
Medvedev donated his first double fault and though he hit his first ace, dumped serve after missing wide with the backhand down the line. Shapovalov returned the favor with his first double fault and with another, gave back the break.
Medvedev opened the 7th with a double fault but with three consecutive well-struck serves reached 40-15. Shapovalov reached deuce with winners off the ground, but his opponent produced two huge serves to consolidate the break for 3-4.
The world #19 serving with new balls, held at love for 5-3 while Medvedev with his second ace, held at love for 4-5. Shapovalov opened with an ace but missed 6/9 first serves and faced two deuce points before converting his third set point with a spectacular crosscourt backhand volley.
Medvedev served first in the second and despite missing four consecutive first serves, held easily to 15 for 1-0. Shapovalov alternating between slice and topspin on his lethal one-handed backhand, opened with an overhead smash and closed with this third ace for 1-1.
The former world #1 began to play on or inside the baseline as he made tactical adjustments from the opening set. Though he faced deuce, he held for 2-1 with penetrating groundstrokes off both wings.
Shapovalov opened the fourth with his fourth ace but with another double fault faced double break point and dropped serve when he netted a makeable forehand. Medvedev opened with a blistering inside-out forehand but faced a daunting challenge as the errors, including a double fault, and the break points accrued. After six deuce points and stellar defense, the #1 seed held for 4-1 with a monster serve out wide.
Shapovalov refused to allow those missed opportunities to derail him as he held at love for 2-4. Medvedev serving with new balls, hit his third ace on a second serve but with three consecutive and uncharacteristic backhand errors, dumped serve.
The toughest hold is after a break. Shapovalov failed to win a point as he was broken at love following two outstanding crosscourt backhands from Medvedev. The Russian undeniably invigorated by his aggressive play, closed out the set 6-3 with an ace and a crosscourt backhand.
Shapovalov served first in the third and though he donated another double fault, held to 30 for 1-0 while Medvedev struck his 5th ace and held to 30 with an incredible inside-out forehand.
Shapovalov committed four consecutive errors and was broken at love when he threw in another double fault. Medvedev missed 4/5 first serves yet held to 15 for 3-1 when his opponent missed wide with the forehand.
The Canadian continued to miss the first serve and it cost him as he dropped serve with a netted backhand. Medvedev opened the 6th with a terrific crosscourt forehand and with a huge serve up the tee, held at love for a commanding 5-1 lead.
Shapovalov serving with new balls, opened with a double fault and though he faced three match points, was clutch under pressure holding for 2-5 with a colossal serve and inside-out forehand.
Medvedev reached 40-0, triple match point but made it interesting as he faced deuce before securing victory with an ace and an extraordinary drop shot. It was a particularly entertaining, high-quality match. Shapovalov clearly driving the train for a set and a half, rendered Medvedev's triumph exceedingly impressive.
While they both hit six aces, Shapovalov donated three more doubles (6/3). Medvedev won 72% of first and 43% of second serve points and converted 5/11 break points. Although Shapovalov hit more winners (41/23) he also made more errors (36/19).
While Shapovalov is still searching for his second career title and first of the season, Medvedev now has two on the season and fifteen overall. Both will be in attendance next week in Paris for the final Masters 1000 event of 2022. Medvedev won the title in 2020 and last year lost in the final to Djokovic.
Shapovalov is hoping to end the year with a top-15 ranking while Medvedev is looking to do damage at the season ending championships in Turin. With this victory, he secured his spot at the prestigious Nitto ATP Finals. In 2020 he swept the field defeating Dominic Thiem in the final and last season lost the title match in straights to Sascha Zverev.
November no doubt will deliver high-octane tennis from the tour's best as the season draws to a close.